World War II
In 1940, while Steinberg was seeking a way out of Italy, his drawings had begun to appear in US periodicals—Harper's Bazaar, LIFE, Town & Country, and Mademoiselle—thanks to Cesar Civita, an illustrator's agent in New York whom he had known in Milan.
---
---
It was Civita who also arranged for the publication of Steinberg's first drawing in The New Yorker.
---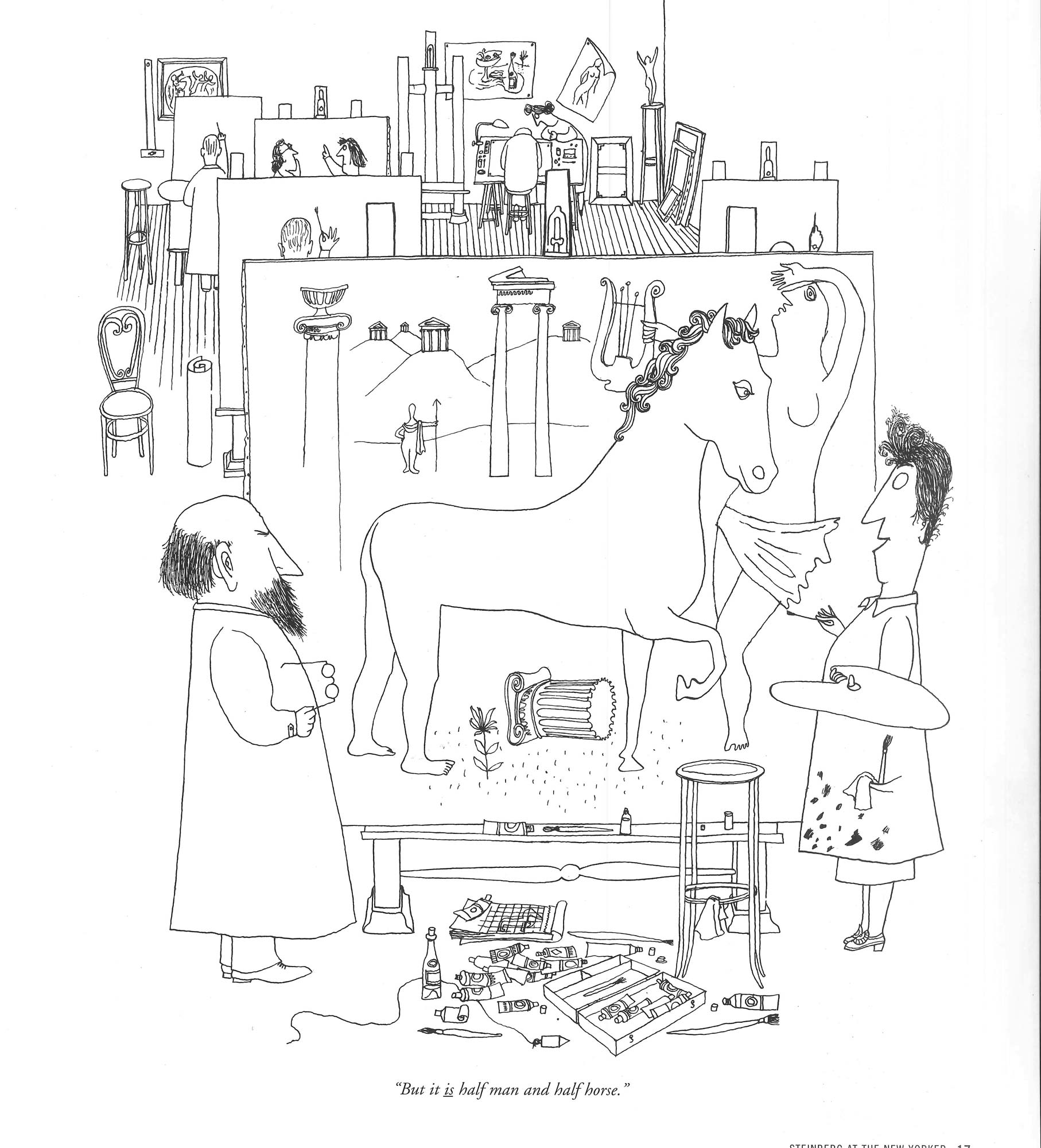 Over the next several months, as he waited impatiently in Ciudad Trujillo for a US visa, Steinberg published another half-dozen drawings in The New Yorker. With his arrival in New York, his contributions to the magazine increased, and he won the favor of the editor, Harold Ross. Ross recommended Steinberg for employment as a consultant at the Office of War Information in New York (November 1942). His contribution to the war effort had begun even earlier, with regular publications of anti-Fascist cartoons in the newspaper PM (January 1942-March 1943), as well as American Mercury and Liberty.
---
---
In February 1943, through the efforts of Ross and his highly placed friends, including William Donovan, head of the newly formed Office of Strategic Services (OSS), Steinberg received a commission in the US Naval Reserve—and US citizenship. He also met Hedda Sterne (1910-2011), a fellow artist and Romanian immigrant, whom he would later marry (October 1944). Steinberg spent the war years in China, India, North Africa, Italy and, finally, Washington, providing pictorial propaganda, primarily for the OSS's division of Morale Operations. 7
---
---
During his wartime overseas assignments, he remained a New Yorker artist, sending drawings to the magazine via Navy courier. His portfolios of military life in China, India, North Africa, and Italy were widely acclaimed. 8